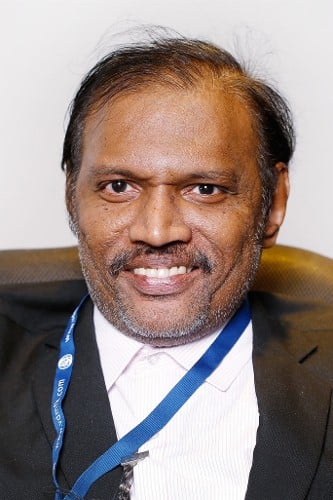 Date of birth: 01.03.1969
M. V. Ravindran was born in Payyanur, Kerala on 1 March 1969. He spent his childhood in Madras. At the tender age of two, he fell ill with polio which left both his legs and hands temporarily paralysed. When he was in the sixth grade, he slipped and fell in the bathroom and fractured his left knee. He had to stay in bed for several months. Following physical therapy and other treatments, he did recover, but lost the ability to walk completely. After the seventh grade, he was totally helpless and gave up school.
Even prior to his accident, M. V. Ravindran had discovered his interest in painting. He received many prizes for his artwork in school. However, his physical condition deteriorated more and more and when his fingers lost their strength, he was hardly able to hold the brush. As a result, he gave up painting. Later on, he met and visited a well-known mouth painter who lives closeby. Under his guidance, he began painting with his mouth. He practised incessantly until he mastered mouth painting. From 2003 onwards, he has been supported as a scholarship holder by the Association of Mouth and Foot Painting Artists. Since 2011, he has been an Associate Member of the Association.
M. V. Ravindran uses oil and acrylic paint for his paintings. His favourite themes include the landscapes of his homeland, flowers and people.