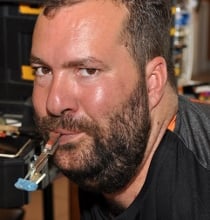 Date of birth: 06.06.1981
Arnaud Dubarre was born on 6 June 1981 in Fontenay le Comte. He has suffered since birth from multiple ankylosis, rendering his arms and legs immobile. He learned early on to use his mouth for everyday tasks. His love for painting developed when he was able to hold a crayon in his mouth and began to trace comic strip characters. After the third year of secondary school he joined a so-called 'cycle adapté' class, in which he did practical exercises accompanied by educational support. This included painting on wood, glass, fabric, leather and other materials. In 1999, through family connections, he became acquainted with VDMFK President Serge Maudet, who introduced him to his work and to the VDMFK. Just two years later, the Association decided to support him as a Scholarship Holder. His love for painting would not relinquish its hold and in 2019 he attained the status of a Associate Member of VDMFK.
Painting allows him to explore many horizons. On this front, flowers are one of his favoured motifs. This is thanks to the magic of forms and colours with which one can imbue them when one is guided by the brush and one's thoughts, as he says himself. Yet his works also include animal motifs and landscapes. His preferred painting techniques are watercolour, pastel and oil.