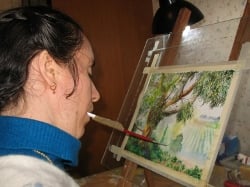 Date of birth: 03.04.1979
At the age of 12 Elodie Cazes emigrated to New Zealand together with her family. There she suffered a fracture of the cervical vertebrae at C4 and C6 when she dove head first into a shallow pond. This injury resulted in her limbs becoming paralysed. During her stay at the hospital she learned to paint with her mouth in the course of a therapy programme. She came to enjoy it very much. Considerable time ago the mouth painting artist returned to France. She became a student member of VDMFK in the year 1997. In 2009 she was awarded the status of Associate Member of the Association and in 2011 she became a Full Member.
Her paintings predominantly comprise typical subjects such as landscapes from New Zealand. In addition her animal and flower themes are influenced by her long stay in New Zealand. Elodie Cazes mainly paints in acrylics. The great progress that she has made within a very short period has made it possible for Elodie to show her paintings at numerous exhibitions.