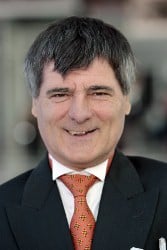 Date of birth: 03.10.1948
Luigi Calloni was born without arms. He began to paint at the age of 12. He acquired his knowledge of painting by receiving instruction from experienced artists from Livorno and by attending the Art Academy in Ardenza. In 1977 Luigi Calloni had already received a scholarship from the association which allowed him to show his works to the general public. For example, a permanent exhibition was set up in Munich. Furthermore, he has also participated in numerous exhibitions in Italy, Switzerland and Austria. His works were well received and recognized. He was honored in the form of awards, cups and medals as well as diverse certificates.
In his paintings he prefers warm and lively colors which are a symbol for the atmosphere he likes to create. In time he preferred more and more figurative works and underlines his growing passion for religious art. His paintings are also of landscapes and expressions of feelings that reflect episodes of life. Luigi Calloni is also a poet and author. He has participated in various literary competitions throughout Italy. His poems are expressions of suffering, pain, love and affection. His lyric poetry exists to bring the news of love to society. Like for his paintings, he has also received numerous honorary distinctions for his literature.