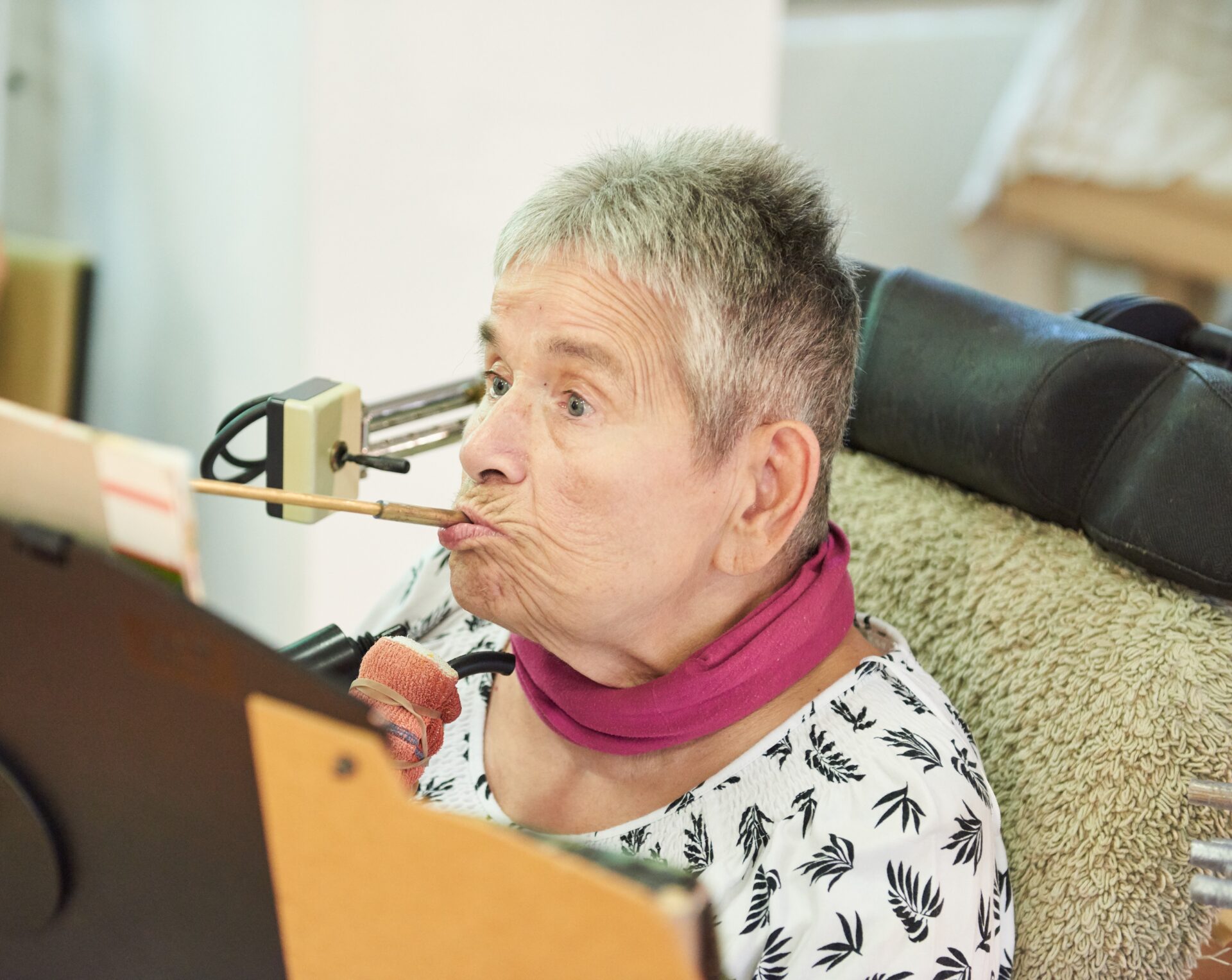 Date of birth: 12.06.1938
Scholarship holder since: 01.07.1964
Renate Schaible-Kaufmann came into the world suffering from spasticity. During the war and post-war period, the severely disabled girl was given no opportunity to attend school. At home, her mother taught her the basics of reading, writing and arithmetic. At seven, she learned to write holding the pencil in her mouth, and at the same time made attempts to draw and paint. She learned eagerly, developed many interests and would most liked to have been an archaeologist.
Due to hip joint problems, which were not correctly diagnosed and treated by the doctors, from the age of 12 onwards her mobility became ever more limited, accompanied by severe pain. As a young woman, during an attempt to alleviate her spasticity through a brain operation, she suffered an injury to the speech centre of the brain. Since then, her enunciation has been largely incomprehensible to most people, so that she communicates best in writing, using her computer.
Since 1970, Ms Schaible-Kaufmann has been living in a living community for disabled people, which she and her late husband helped to found. As well as reading and exploring many themes and questions concerning life, painting is one of her favourite occupations.
In 1964, Ms Schaible-Kaufmann was accepted into AMFPA as a Scholarship Holder, which made it possible for her to receive lessons from an art teacher in drawing and painting. Her favourite motifs for her watercolours are landscapes, flowers and still lifes # and, again and again, her favourite tree, the birch, at different seasons of the year. Many of her pictures stand out due to the special quality of the light.