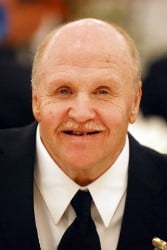 Date of birth: 24.10.1948
In 1983 at the age of 34, Robert Rycroft was so severely injured in a surfing accident that he remained paralysed. As a consequence he had to give up his job in the construction sector and find a new task. Even though he was paralysed from neck down he took up painting with his mouth. A friend of his encouraged him to draw and paint pictures, and he made his first attempts at drawing on a sheet of paper holding a pen between his teeth. He learnt how to paint with his mouth as an autodidact. In 1989, the association granted him a scholarship supporting his artistic activities. In 1996, he became an associate member of VDMFK.
Robert Rycroft's favourite motifs are landscapes, florals, and religious motifs. He likes to observe nature and to express his impressions in his works. For about a decade he has painted in watercolours. Furthermore he likes painting with pen and ink. Robert Rycroft has been granted several distinctions and awards. His paintings have been exhibited in different cities in the United States.